Chris Hansen, Chief Executive of Hansen News, LLC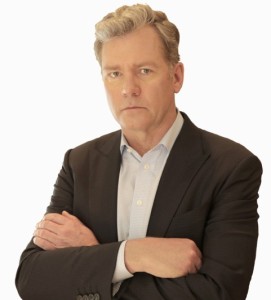 Chris Hansen is the Chief Executive of Hansen News, LLC, a new video production company. Until 2013, he was a correspondent for NBC News' Dateline. He joined NBC in May 1993, as a correspondent for "Now with Tom Brokaw and Katie Couric."
As part of the compelling Dateline franchise, "The Hansen Files," Hansen and Dateline's hidden cameras uncovered secrets and scams that are both shocking and moving. Most recently, "The Hansen Files" investigated daycare workers with criminal records, healthcare insurance scams, the truth behind vitamin supplements and dishonest lottery retailers. In addition, in March 2012, Hansen reported from India – where he was detained – on the realities of how prescription drugs are approved.
In September 2004, Hansen began his breakthrough investigative reporting on online sexual predators. Twelve dramatic hidden camera investigations have exposed 300 men who target young teenagers over the Internet. In April 2007, he reported in "To Catch an ID Thief," an unprecedented investigation into the massive billion-dollar epidemic of identity theft. Using "Dateline's" signature hidden camera techniques, the report followed the trails of an international identity theft ring, capturing for the first time on network television how the crime works and some of the people that may be behind the process.
In June 2006, Hansen traveled to China to report in a year-long hidden camera investigation into the counterfeit prescription drug trade. The Emmy and IRE-winning report documented how easy it is for counterfeit medicines to wind up at local pharmacies in the United States. He has received two Emmy Awards for his 2004 report on child sex trafficking in Cambodia for which he went undercover in a dramatic mission to rescue some of the children. Additionally, Hansen has played a significant role in "Dateline's" coverage of the war on terror and homeland security issues. He was responsible for much of "Dateline's" coverage of the September 11 terrorist attacks, with breaking investigative stories that focused on the terrorists and operations of the Al -Qaeda network. Hansen exposed how a group with links to Osama Bin Laden and Al-Qaeda tried to buy stinger missiles and other deadly weapons, including components for nuclear devices from American citizens. He also worked on the exclusive report detailing how terrorists attempted a similar attack in France in 1994.
Hansen's varied reports have stirred interest in both international and national issues. His hour-long report on child slave labor in India's silk trade showed the link between exploitation and the fabrics found in some of the finest garments sold in the United States earned international acclaim. Hansen's hidden camera series on the lack of security at airports prompted an investigation by the Federal Aviation Administration and immediate nationwide policy change.
Before joining NBC News, Hansen was an anchor and investigative reporter for the NBC affiliate (1988-93), WDIV-TV, in Detroit, Mich. Prior to that, he was a reporter for WXYZ-TV, the ABC station in Detroit. Hansen also reported for WFLA-TV, an NBC affiliate in Tampa, Fla. and while still in college, for WILX-TV in Lansing, Mich. Early in his career, he reported for local radio stations and newspapers in Michigan.
Hansen has received numerous awards including eight Emmys for investigative reporting, outstanding coverage of a news story and outstanding coverage of breaking news. He has received the Overseas Press club award, an IRE, the National Press Club award and the International Consortium of Investigative Journalists Award. Hansen has also received awards for excellence in journalism from both the Associated Press and United Press International, and he has won four Edward R. Murrow awards for his news series investigating aviation security and safety as well as his coverage of the Ford/Firestone case. He's been honored with three Clarion awards for his coverage Indian child slave labor, aviation security and the Unabomber case and a first place medal for an undercover investigation of airport security as well as numerous Headliner awards.
Hansen graduated from Michigan State University with a Bachelor's degree from the College of Communication Arts and Sciences. He resides in Connecticut with his wife, Mary Joan, and their two sons.  Follow Chris on Twitter