Hana Pejlto Cluff- Senior Director of Applied Analytics- Legendary Entertainment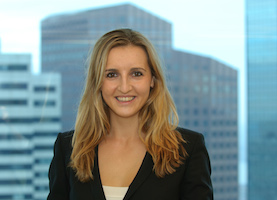 Hana (Peljto) Cluff is currently a Senior Director of Applied Analytics for Legendary Entertainment. She is part of a newly created analytics division the company has founded in order to use data and analytics to make smarter strategic and marketing decisions around its content. Legendary Entertainment, a film production company, has funded and created movies such as the Dark Knight trilogy, The Hangover trilogy, Inception, 42, and the most recent Godzilla film.
Hana's prior experience is in sports and business strategy consulting.   Following her basketball career at Harvard during which she became the third leading scorer in Ivy League history, Hana fulfilled her lifelong dream to play professional basketball in Europe, playing in the top French professional league for three seasons. She followed her professional athletic experience with pre and post MBA roles at OC&C Strategy Consultants, where she spent a total of over four years, including one year as an ambassador to the firm's London office.
Hana graduated from MIT Sloan in 2011. Continuing her passion for sports while at MIT, Hana co-chaired the 2011 MIT Sloan Sports Analytics Conference, a 1,500-attendee pre-eminent sports event, and completed summer internships at Converse and PepsiCo (Gatorade brand) during her MBA. Hana received a Forte Fellowship and a Siebel Scholarship while at MIT Sloan, the latter of which is granted to 5 exceptional students in the class of over 400.
Hana holds an AB in Psychology with honors from Harvard University. She was awarded the Harvard Radcliffe Foundation for Women's Athletics Prize, NCAA Postgraduate Scholarship, and WBCA Scholarship while at Harvard.